Shopper's World Tutoring Centre
905-455-5525 Brampton, ON
2017 Student Achievements for our Shopper's World Academy

We just love acknowledging students that go above and beyond by bestowing on them various awards – one of which is our Student of the Month Award. Here are the Shopper's World Academy student achievements and accomplishments for 2017.
Throughout the year, the Academy will continually be updating this post to share any new student awards and achievements.
Students of the Month
We are very pleased to award Aaliyah Rybka as the January Student of the Month Winner. With her remarkable achievement, Aaliyah ought to be called "The Comeback Queen!".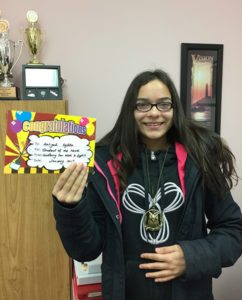 Aaliyah rebounded from 50% to 80s in Math in a little more than 90 days after joining our Shoppers World Brampton Academy! Simply an amazing accomplishment!
Congratulations are also in order for Karen, the Director, and Stella (her tutor) who helped her with this remarkable feat!
Well done, Aaliyah Rybka!!! Keep it up! Your progress is incredible!